The Digital Revolution and its exciting consequences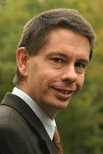 Par Strom is specialised in the evolution of IT and its consequences for businesses, individuals and society. He is able to see the large trends and draw relevant conclusions. Par Strom is also a noted privacy advocate in Sweden and is engaged as the Privacy Ombudsman on the The New Welfare Foundation link.
Par Strom is an advisor, lecturer and consultant, and has done work for a number of international corporations. He has written seven books on information technology, published in four countries. He holds a Master of Science degree in Physical Engineering from the Royal Institute of Technology in Stockholm. For a long time, Par Strom has been a strident voice on a number of IT related issues, ranging from RFID (smart tags) applications to `Big Brother is watching you´- issues.
Par adds an invaluable perspective to new business opportunities as well as privacy risks due to the digital revolution. His unique perspective has made him a frequent guest on television and radio. He is now in great demand for his stimulating and provocative presentations all over Europe.
Par Strom offers two business areas: Inspiring and thought-provoking presentations and strategic consulting.
Connected Bank Notes (microchips in everything, smart products, internet of things, human implants…)
Security (biometrics, facial recognition, pattern recognition, behaviorial interpretation…)
RFID/Smart Tags (wireless microchips for logistics and other applications…)
Marketing and Selling in the Digital Environment (incl. new business models…)
Big Brother is Watching You (digital surveillance, electronic footprints, snooping society…)
The Digital Industrial Espionage (spyware, secret backdoors, Echelon eavesdropping system…)
The Future of Retailing (RFID, smart shelves, automatic check-out, new payment systems …)
Smart Packaging and Smart Paper (incl. printed electronics)
Machine to Machine Communication (the 8 business benefits of connected everyday products)
Mobile Services (wallet telephones, converging devices, life style changes)
Information Technology Ethics (trade-off between business benetifs/security and privacy)
The Year 2015 – a Scanario (examples from daily life from an IT perspective)
Par Strom offers inspiring and widely praised presentations and lectures in English, German or Swedish. He focuses on the exciting consequences of the digital revolution, and how companies, individuals and society are affected.
He provides the audience with new ideas, innovation power and belief in the future. He gives inspiration and new perspectives. The customers are drawn from both the private and public sector as well as organizations.
Twice he has been on the list of Sweden's most demanded professional speakers that is published by Veckans Affärer (Sweden's leading business magazine). He has spoken together with Bill Gates.
Although providing considerable depth, Par Strom's presentations are easy to follow and entertaining. This is because Par uses storytelling and numerous examples, with many photos and other illustrations, and a touch of humour. The presentations have a duration from 30 minutes to full days seminars, although 45-90 minutes is most common.
Please contact: Pär Ström +46709699411 par@atomer.se